The fourth year of medical school. You gave it your all – in your classes, your boards, and your exams. Your fate is pretty much set, but there's one more part of the puzzle that can make or break the application. It is the dreaded personal statement. Often the cause of grunts, groans, and the center of procrastination. Nothing is worse than writing about yourself – balancing the tightrope of sounding over-confident vs. inept.
It's a mystery on how important the personal statement is to residency programs. But it is safe to say the gravity of the personal statement is dependent on the specialty and the particular program itself. It is all speculation – therefore, there's no reason to skimp on the effort with your personal statement. Here are some tips below to keep in mind while crafting it.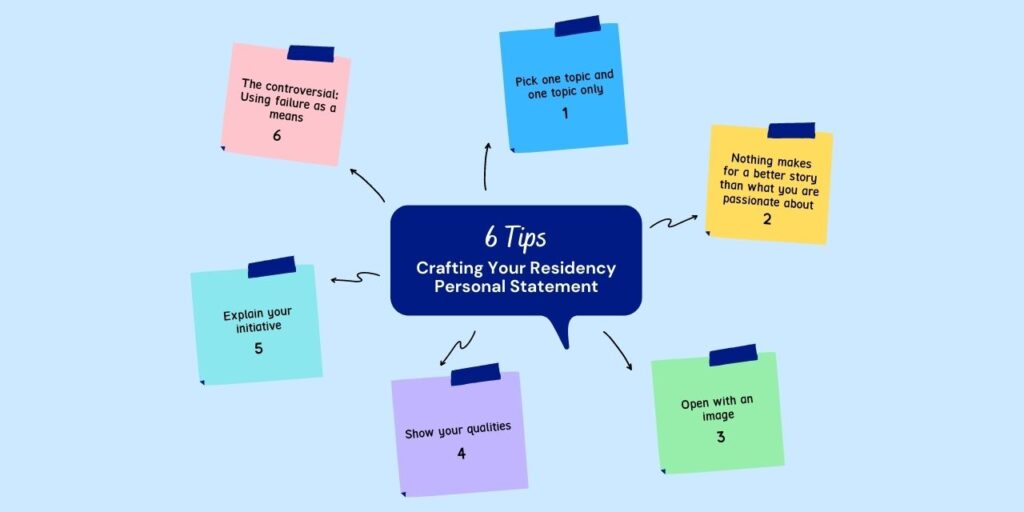 1) Pick one topic and one topic only
The last thing your personal statement should be is a regurgitation of your resume. Avoid making it a run-through of your life from toddler until now, explaining all the pit stops that were the bullet points on your resume.
Find a topic that is provocative, and delve into how it ties into your love for medicine and the specialty you plan on pursuing. It sounds contradictory, but the smaller the slice of your life you present in your personal statement, the more you'll tell about your character and personality.


2) Nothing makes for a better story than what you are passionate about
If you aren't excited about the topic, then how could you expect the audience to be captivated? Think long and hard about what shaped the path to your prospective specialty and why you belong in said specialty. Pick a topic that will show your reader your insight and intent for the specialty.


3) Open with an image
Remember in fifth grade, when your teacher taught you to include a topic sentence as your opener? Well, you're not in fifth grade anymore. Draw your audience in by painting a picture. Avoid listing your particular specialty within the first paragraph.
Avoid:
4) Show your qualities
In your residency applications, this is the only place that allows you to explain your thought process prior to interviews. How has a particular life event e molded you to be interested in the specialty you are applying for? Explain the process of how you came to be who you are now.
Qualities you're trying to present: Empathy, compassion
Telling, not showing:
The above paragraph definitely gets the point across, but think of how many personal statements are written in the same way.
Try this:
5) Explain your initiative  
The best personal statements are those that show growth and development. The best personal statements will show some form of initiative or reaction to the journey aforementioned. Whether the response to your journey was big or small, elaborate on it. Here are some examples below that cover the spectrum of what you can mention:
 What you accomplished:
6) The controversial: Using failure as a means
Avoiding your weaknesses in a personal statement sounds intuitive. You are trying to sell yourself as a highly qualified resident. There's a beauty in the breakdown, though – it shows introspection and ability for development when you demonstrate your ability to learn from failure.
Residency is all about making mistakes, and learning from them in an environment where you work under the tutelage of attending physicians. As much as it is important to come in with excellent grades and a strong foundation for these clinical years, having the attribute of genuine contemplations over your mistakes is something I believe residencies are looking for.
Do you feel inspired about a topic after reading how to write a personal statement? What advice do you agree with, and what are some bullet points you don't see as a good idea? We'd love to hear your thoughts below.