Your chances are pretty good with a 3.5 GPA.
The average median GPA was 3.72, and generally fell around 3.4 or higher according to data from U.S. News.
Most medical schools don't have a minimum GPA requirement, but admission experts suggest maintaining a 3.0 GPA. In fact, they recommend applicants to strive for 3.5 and above.
Ultimately, both allopathic and osteopathic medical schools generally require students to achieve at least C's (2.0) in their courses in order to matriculate. In that case, you've nailed it–you just have to maintain it.
Based on the latest data, the probability of getting into medical school with a 3.5 GPA is 25.6% to 69.7% depending on your MCAT scores and whether you apply for allopathic or osteopathic schools.
What The Metrics Say
AMC numbers from 2017-2018 to 2019-2020 reported that the acceptance rate of all allopathic medical school applicants with a GPA between 3.40 and 3.59 was 32.4%. This was based on all applicant MCAT scores.
The higher the MCAT score, the greater the relative likelihood of getting an acceptance was. With a GPA between 3.40 and 3.59, a 502-505 MCAT score had a 25.6% acceptance rate, 49.5% with a 510 – 513 MCAT score, and 69.7% with an MCAT score greater than 517.
3.00-3.19 GPA

MCAT Score

502-505

506-509

510-513

514-517

Greater than 517

Acceptance Rate

25.6%

36.0%

49.5%

61.1%

69.7%
A 3.5 GPA will get you around a 25% to 70% chance of acceptance into an allopathic school, which is pretty high.
It should be noted that even with an MCAT score of greater than 517, GPA does make a big difference. Your acceptance rate with an MCAT score in that range is 69.7% if your GPA is between 3.4 to 3.59, 56.7% if your GPA is between 3.2 to 3.39, and 54.3% if your GPA is between 3 to 3.19. Therefore, it seems that a GPA above a 3.4 significantly improves your chances of getting into medical school when you combine it with a stellar MCAT score.
39.5% of 2019 admitted applicants for osteopathic schools reported having an overall GPA between 3.20 and 3.59.
As shown above, a variety of factors like MCAT score can tilt a med school acceptance drastically to your favor (and vice versa).
Still wondering what your chances are with a 3.5 GPA? Check out our LizzyM calculator to match target schools with your GPA and MCAT.
How Can I Be More Competitive?
Though there isn't anything you can do to raise your GPA, there are other parts of the application you can focus on to appear more competitive.
Can I Improve My GPA?
The goal for the most part is to maintain your GPA, but there is definitely room for improvement especially as a freshman or sophomore.
Good job so far maintaining your GPA! Become more competitive by striving for an upward trajectory. Think about where your weak spots are. Are you spending hours poring over the textbooks without much yield? Switch it up with YouTube videos! Reflect on the factors that might be holding you back.
If you're a junior or senior, focus on getting a stellar MCAT score for a competitive edge. However, do consider re-taking any class you may have failed (a B doesn't count).
How Else Can I Buff Up My Application?
Medical schools don't only accept students because of stellar grades. A passion for medicine is one of the things they want to see in candidates. Clinical experience prior to admittance may boost your chances of getting your application accepted. A gap year or two may deem beneficial and give you the relevant healthcare exposure to get into medical school.
Scribing (or similar medical roles) is one of the more popular gap year activities because of the numerous medical-related skills students may gain. Not only that, you get paid doing so too! Research is another option that people take up to beef up their application. Getting published (even as a second author) is extremely beneficial.
What if I want to do something else? No worries, feel free to pursue your passions! What you get at the end of any experience will still be valuable. Medical schools also care about activities that can demonstrate key physician skills like empathy, communication, and teamwork.
If you think your GPA isn't enough, a gap year or two might just spruce up your application. Also, students typically take a gap year so that they can take the MCAT during their senior year.
Some food for thought: consider it if the MCAT and the application process would be too stressful to deal with at the same time as all your other obligations. The median age of matriculants is twenty-four, which means many people take some time off after college before applying.
Lastly, make sure the requirements you have for applying to medical school is complete. There is no better way to lower your chances of getting accepted than by submitting incomplete requirements, no matter how high your GPA is.
Should I Still Apply?
With a 3.5 GPA, you have a 39.5% chance to get an offer from an osteopathic school and a 32.4% chance to get into an allopathic school. (Taken from 2019 metrics)
Make your application stand out to raise the chances of getting in. You have as much chance to get accepted as the next person, so do not lose hope!
Do Really Well On The MCAT
When applying, Medical schools will initially look at your MCAT score to get an initial idea of the applicant. A higher MCAT score results in a higher chance to get accepted, Acceptance rates rise tremendously from 25.6% to 69.7% when your MCAT score changes from 500 to above 517!
Having a high MCAT score shows schools your capacity to learn and retain information, which is highly needed when on the path to becoming a doctor. If you can excel with your MCAT and pre-med schooling, you more than have the ability to excel in the medical field as well.
Show More Than Your Test Scores
Your medical school application should not just revolve around your MCAT score. It should include sections for extracurricular activities, clinical experience, letters of recommendation, research experience, and other stuff (e.g. honors and awards).
These sections should show why you make a great addition to the student community and healthcare workforce that the nation stands on.
Apply to Both DO and MD schools.
Use tools like the AAMC MSAR to help you stratify what schools are "far reaches," "reaches," or "targets." While some schools have no or low minimum GPA requirements, their incoming student profiles will show you what they look for. Be realistic about how you match up to their metrics but also consider what kind of students schools are looking for. Some emphasize research while others emphasize social service.
Research schools and look at their accepted student profiles. Think about other factors that may help you. For instance, in-state schools generally prefer to take in-state residents. If it's difficult making a decision, reach out to your pre-med advisor for help tailoring a school list.
Widen your choices by applying to DO schools as well. At the end of the day, no matter which school you get into, you will have a degree and license to practice. You are still a doctor. That's all that matters.
Consider Applying To A Caribbean School
Though a 3.5 GPA is definitely decent enough, you can still consider applying to Caribbean schools for more options. But this is not generally recommended if you have other options—and with a 3.5 GPA, you have options.
This is because according to the 2020 NRMP Match Results and Data, residency match rates were roughly 30% lower for international medical graduates (IMGs). It would suck to spend all that money and not get matched in the end.
Do weigh your options before deciding!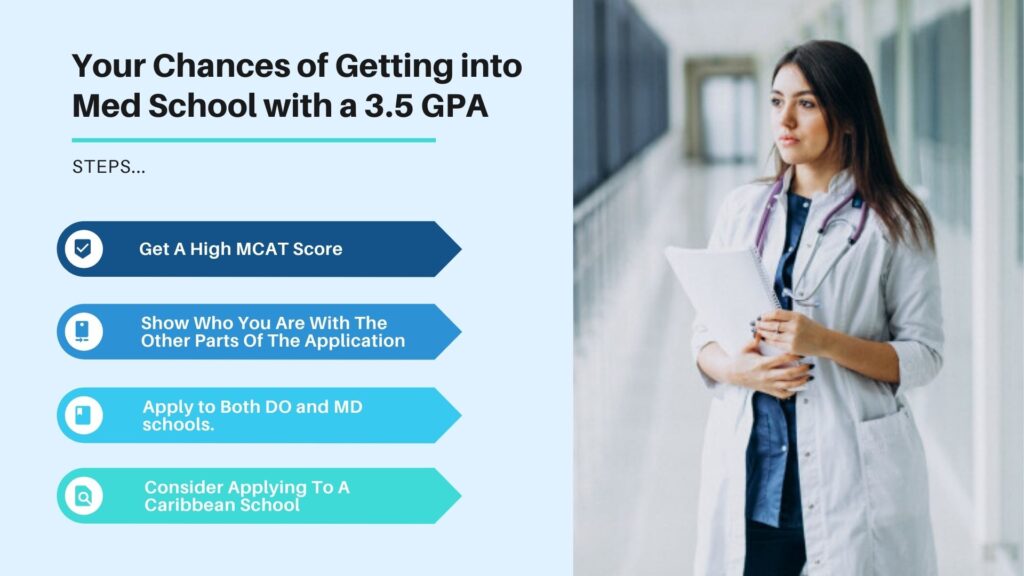 The Final Thought
With a 3.5 GPA, you're on the right track to applying to medical school. Solidify your chances through other aspects of the med school application, but make sure you also enjoy what you do. Medical schools look at applications holistically so as long as you have gained a valuable experience, it's all worth it.
You will become a great physician someday! Aside from getting good grades, also focus on keeping your mind and body healthy. It is going to be a long journey. So stay positive and remember to take it one step at a time And celebrate every little achievement on the way. It adds up in the long run!
What other questions do you have? What advice might you share with fellow pre-meds? Feel free to share and comment if so. Let us know what you think.