Although the field of healthcare experiences a surge in demand as people live longer and medical care increases, not all medical professions enoy the same level of growth. While the American Association of Medical College (AAMC) estimate a physician shortage of 122,000 by 2032, the job prospect for pharmacists is not anywhere near as urgent. Before considering a career as a pharmacist, take a look at these sobering statistics.
The 10-year growth rate from 2018 to 2018 is flat, with no growth according to the Bureau of Labor Statistics (BLS). In fact, the BLS expects there to be 200 less pharmacists by 2028 than there is now. The total growth rate for all occupations from 2018 to 2028 is 5%. The BLS partially attributes this to increasing sales via mail order and online pharmacies in which assembly line work and automation plays a big role. 
In comparison, jobs for health diagnosing and treating practitioners is expected to grow at a staggering 13% from 2018 to 2018.
On the supply side, acceptance rates for pharmacy schools have gradually gone up throughout the years. According to AACP (American Association of Colleges of Pharmacy), the percentage of accepted applicants went from 34.1% in the 2003-2004 cycle to a staggering 82.7% for the 2017-2018 cycle. A small percentage of the growth can be attributed to a decline in applicants. The cycle of 2012-2013 saw peak applicant numbers at 17,617 with a 69.5% acceptance rate. However, as applications declined, pharmacy schools continue to accept more. See graph below to see the trending acceptance statistics.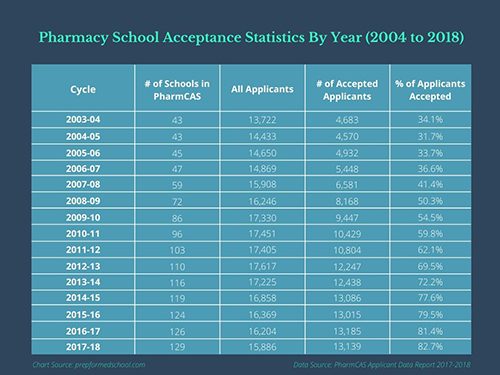 4.The number of pharmacy schools has also grown. Data also from the AACP shows a total of 89 pharmacy schools during the 2003-2004 cycle to 143 during the 2017-2018 cycle. See graph below.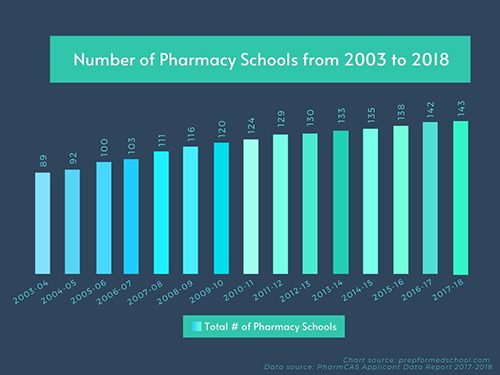 5. Average salary for starting pharmacists have been on the decline. A study based on self-reporting of new pharmacists showed that average starting salary declined from $111,500 in 2013 to $108,500 in 2017.
6. According to the National Association of Boards of Pharmacy (NABP), 73% of US-licensed pharmacists reported a birth date of 1960 or later. However, data collected on retirement age pharmacists in Illinois show that 44.8% of pharmacists over the age of 65 still practice. As cost of retirement rises people live longer, the workforce is expected to see a good portion of people work past 65. According to Data USA , the average age of a pharmacist is 41.7.
7. According to an AACP workforce study, the number of licensed pharmacists that are not working in any profession more than doubled, from 9.7% in 2009 to 22% in 2014. Note that those who are licensed and unable to find a job and those who are licensed but retired are both counted for in this data. Clinical pharmacist Joy Sweeney wrote in Pharmacy Today that she expects the unemployment rate of pharmacists to be hovering at 10 percent based on BLS date and the above AACP workforce study.
8. According to Drugs Channels Institute, the average salary of pharmacists grew at a slower pace than that of all healthcare workers.