You're here reading this segment because you're considering a career in podiatry!
This article will give you a rough timeline when you are applying to podiatry school. Use this to be better prepared during the process. This is a condensed timeline on how to apply and gain admission into podiatry school directly out of undergraduate. If you are someone who has already graduated, then pick up during the application portion of this timeline.
Remember, this is a bare-bones layout of the best times to complete certain tasks on your way to becoming a podiatry student. Make adjustments as you see fit, but if you follow this timeline you will be in great shape come application time.
Completing Undergraduate 
In your undergraduate program, you must have completed your pre-medical course work to be eligible to apply. Below is a list of coursework and their credit hours most podiatry schools require you to finish prior to applying.
| Biology | 8 semester hours |
| --- | --- |
| Chemistry (General or Inorganic) | 8 semester hours |
| Organic Chemistry | 8 semester hours |
| Physics | 8 semester hours |
| English | 6-8* semester hours |
Regardless of if your undergraduate operates on quarterly terms or semester terms- these hours will be accrued through 2-3 courses for each subject. The English hours have an asterisk next to it because this is the only subject that each school will have a different requirement for- but as listed above, 6-8 hours is required.
Here is a sample timeline from Temple that shows how you can fit all the prerequisites into four years of college.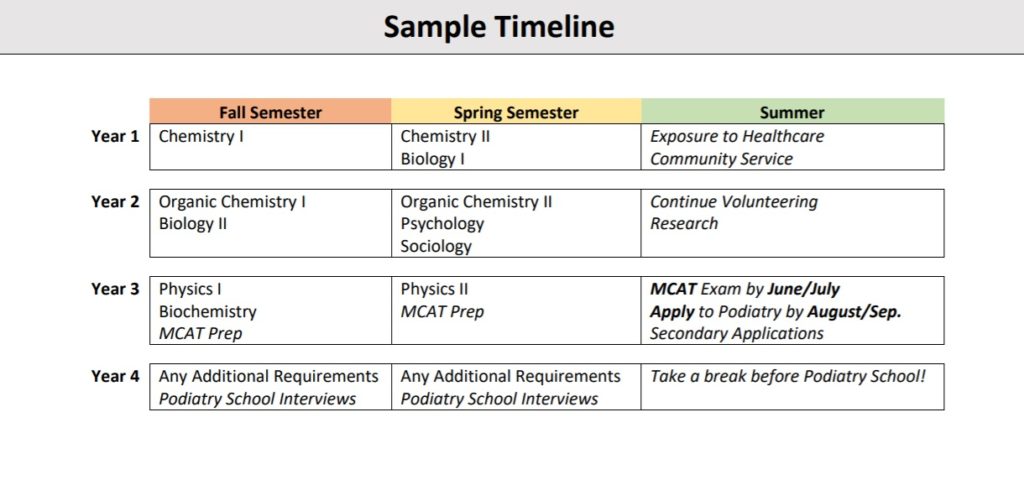 You must obtain a 3.0-4.0 grade for all of those mentioned courses. Special attention will be given to your science GPA even though each school will look at your application as a whole. 
The average science GPA of a student that matriculates into podiatry school is in the 3.1-3.2 range from the years 2016-2020 with a breakdown of GPA can be found from the official AACPM website.
This is also the time you can elevate your application by doing the following: (all optional)
Volunteering- try for a medical volunteering position.

Shadowing- a podiatrist, specifically. This may lead to a letter of recommendation.

Assist in Research

If you assist in research and include it in your application, interviewers will ask you questions about the research. 

Questions will include why the topic interests you, how you assisted, how was the research performed, and they will ask you about results as well. 

Be read up on whatever research you assist in so that these questions don't blind-side you during interviews.

Extracurriculars- show some personality! 

Sports

Clubs

School functions
Along with rounding out your application with activities, you must also obtain your letters of recommendation- podiatry schools like to see 2-3 letters of recommendation; with at least one from being from a professor and one being from a Podiatrist.
MCAT 
MCAT should ideally be taken 1-2 years prior to entering podiatry school. MCAT scores more than 3 years prior to the beginning of application are not accepted.
The most important thing to consider when applying is if you are the strongest applicant you can be. For example: if you take your MCAT early in your 3rd year and receive a less than average MCAT score then you must retake the MCAT and apply with your highest score. 
As long as you take your MCAT and have it in your application by each school's desired "Last MCAT test date prior to fall start date" (seen in the table below) you are in a good position.
| School | Last MCAT Test Date Prior to Fall Start Date |
| --- | --- |
| AZPod | March |
| BUSPM | May |
| CSPM | June |
| DMU-CPMS | June |
| KSUCPM | June |
| NYCPM | June |
| SCPM | June |
| TUSPM | June |
| WUCPM | June |
The average matriculated MCAT scores from the year 2016-2020 can be seen in the table below.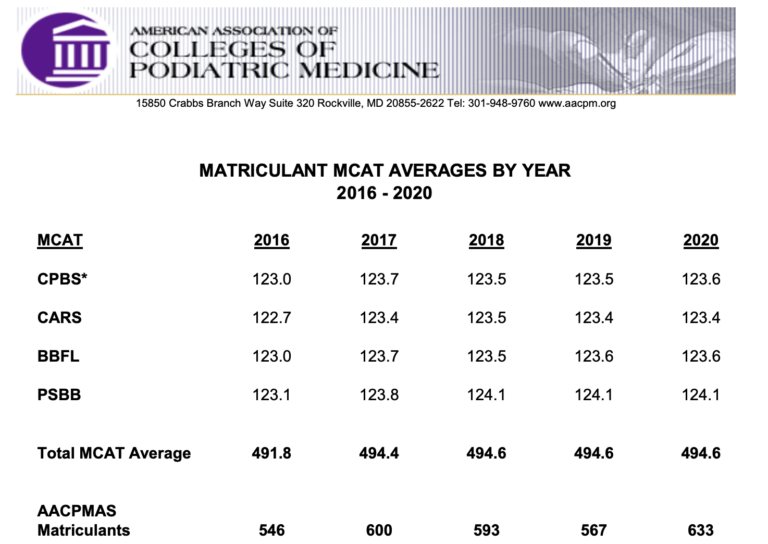 Based on the table, you can see that the average score of a student who matriculates has been increasing since 2016. The average has increased by almost 4 points over the course of 4 years. 
One more thing to keep in mind is that the oldest MCAT scores that any podiatry school will accept is no older than 3 years. This information, along with the information about course credits and last month for MCAT acceptance, can be found at the AACPM website.
To keep up with the demands podiatry schools have for test scores, you should begin preparing for the MCAT at least 3-4 months prior to your exam date with at least 4 hours a day dedicated to studying each day.
Below is a graph correlating the time when a student began studying and how many hours they spent studying each day with a 90th percentile score upon completion of the MCAT.
This graph shows the studying habits and time frame of students who scored in the 90th percentile or higher on the 2015 MCAT. This data represents that the majority (64.4%)of students who scored in this exceptional range studied for at least 1-3 months prior to their exam on the left. It also shows that the majority (48.9%) of students studied for more than 4 hours a day on the right. 
With the interpretation from this data, the best way to prepare for the MCAT is by spending 4+ hours a day studying and by starting at least 1-3 months prior to your exam.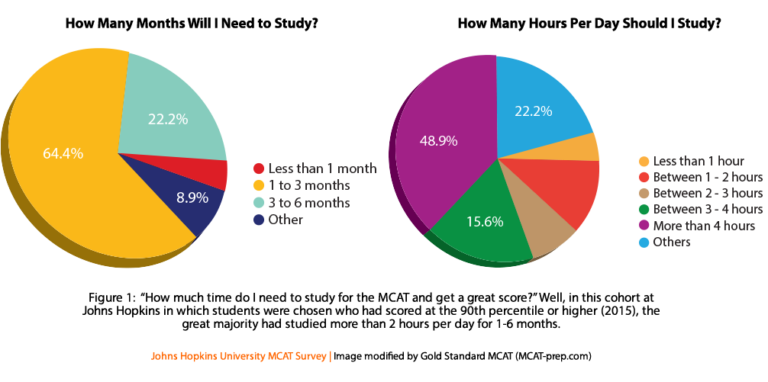 Remember to sign up early for the MCAT and mark your calendar for the date! MCAT testing centers fill up quickly. Signing up in advance will ensure you've reserved your spot for that specific test location and time. 
The MCAT exam costs $320, and $375 if you sign up within 8 days of the exam date- another reason to sign up early! Take all of this information into consideration when you are gearing up for this exam.
Time to Apply
Apply one year prior to the year you wish to start.

So you've taken all of the prerequisite courses, obtained all of your letters of recommendations, gotten some experience in the clinic and volunteering, and even taken the MCAT? Well take a second to pat yourself on the back because now you're officially ready to apply! 
Applications open in August exactly 1 year prior to your Fall start date in podiatry school. The application process is rolling so you should attempt to apply as early as possible. The applications will close around May-end of June just a few months before your fall start date. 
Applications are done centrally at the AACPMAS website. Here you will create an account and input all of your information to apply. Letters of recommendations will be sent directly to this website as well as MCAT scores and official transcripts. Enter all of your information and be sure all of your files are sent in so that you can apply early. This will allow you to take advantage of the rolling admission.
When applying, you will select each school you want to apply to. The first school's application will cost $185 followed by $50 for each additional school- if you were to apply to all 9 podiatry schools it will cost you $585.
Interviews 
Interviews will happen a few months to 1 year prior to starting.
Now that you've come this far, you'll have one last hurdle to overcome! Once the schools have determined if you are a viable candidate, you will be invited to an interview at their campus.
The schools will give you a list of dates to choose from. Keep in mind they work on a rolling admission basis so the earlier you can interview the better. 
During this interview time make sure to notify your professors you will be absent from class. Also be sure to make anyone else aware that you will be travelling for a short amount of time in case you have other responsibilities as well.
The Interview Itself
The interviews are conducted at each school on their campus with a few different portions for the interview day. 
According to Dr. Kathleen Franco, associate dean of admissions at Cleveland Clinic Lerner College of Medicine, "dressing the part" is one of the most important things you can do on your interview day. In her article, Dr. Kathleen Franco states that a gentleman should wear a blazer and slacks. For women, a blazer and slacks or skirt is appropriate. Along with clothes, your shoes must be professional as well as comfortable as you will be walking around campus for parts of your interview.
The interview consists of a formal interview with 1-3 professors/administrators, a tour of the campus, a Q&A with a current podiatry student, provided lunch, and a brief discussion of financial aid.
These aspects of the interview can occur in different orders depending on the school. Be prepared to answer difficult questions, but also come ready with any questions you may have for the school. Some questions you can expect are:
Why did you choose podiatry?

Do you recall anything specific from shadowing a podiatrist?

What are your studying habits like?

Along with questions, interviewers may ask about your GPA and MCAT score as well.
A summary of your interview day, along with a few podiatry school interview questions can be found at this website. 
One last thing to consider for your interview is to make sure you are up to date on podiatry news. Whether it's new research, breakthroughs, or even just geo-political changes affecting the field these questions come up often and will also give you a topic to discuss with the faculty and students.
Accepted! Now what?
You are accepted 3 to 12 months prior to starting. In this stage, it is time to start preparing for podiatry school.
You did it, you've officially been accepted! It's time to put your deposit down and save your seat for the year's entering class. This can occur anytime from 1 year prior to your entering year just because that is when applications open up and there is rolling admission. 
Some students have been accepted much later in the cycle as well. Acceptance letters even come late into May, just a few months before the start of the new school year. From the time you are accepted, it's merely a matter of getting acquainted with the area you will be in for the next four years.
Take this time to search for an apartment if you do not wish to live on campus, determine how you want to begin tackling the obstacles of podiatry school, and above all else- relax!
You've accomplished a great goal, now you need to take some time for yourself and prepare yourself mentally for the next adventure you are about to embark on!
In conclusion
If you follow the timeline I've laid out, you will be able to apply to podiatry school in a timely manner. You will be able to fulfill all of the requirements prior to applying, and you may even find some time in your schedule for yourself.
There will be a few hiccups in anyone's timeline, and when that happens just take a moment to reevaluate your personal timeline and make necessary adjustments. What I've given you is a prototype, make it your own and continue forward on your path! 
I hope you've enjoyed my article and found it enlightening. Please let me know in the comments below what you think or if you have any other questions!
I wish you the best of luck on your journey forward!